Coloured Asphalt
There are no two projects alike. If you are looking to have coloured asphalt installed, our specialist team at Coloured Asphalt is here to assist.
Our skilled team can provide coloured solutions that exactly match your requirements by combining our years of experience in asphalts with our access to high-quality aggregates.
Coloured asphalt is an excellent alternative for schools, playgrounds, private driveways and public businesses.
Available in bright, vibrant shades and hues, you can use coloured tarmacadam and surfacing to highlight specific areas and markings or to make your driveway or groundwork stand out from the rest of the neighbourhood.
Asphalt is traditionally used to help surface roads, pavements, pathways and playgrounds alike. While it can be highly durable, the same black colours and shades can get a little bit tiresome after a while!
There is a range of different types ranging from Supercolour https://www.colouredasphalt.co.uk/supercolour/ to simple anti-slip colour coating.
"We are so happy with our school playground now we have Coloured Asphalt! Thank you so much - we will certainly recommend you to other schools."
Colour bitmac, asphalt and macadam are all still growing in popularity in the UK for a variety of purposes and means.
As part of our local expertise, we will always be more than happy to help bring your surfacing to life in an expansive spectrum of colours and options.
Read on to learn more, or fill in our contact form to find out how we can help you directly with your project and/or needs!
Colour Tarmacadam
Colour tarmacadam can not only be used to help make your own private driveway or paving stand out from the crowd – it can be used to help identify different areas and zones on sports courts and roads, too.
Coloured bitmac solutions remain just as porous as their traditional varieties, meaning that you can rely upon the great-looking, vibrant outdoor surfacing for years to come without the fear of water damage coming into play.
Our fantastic coloured tarmacadam options are suitable for application both domestically and commercially.
So, whether you are undertaking a full business resurfacing or are simply upgrading your driveway, we will make sure our nearby team and the best supplies on the market are available to help you.
Colour surfacing is an excellent idea for a range of different things, including:
Sports courts
Football pitches
Roads
Bicycle lanes
Bus lanes
To present your brand
While you can paint freely on asphalt, having the mixture laid out and ready to go offers greater durability and less maintenance for years to come.
Paint can chip, flake and fade – this type of tarmacadam remains just as bright and eye-catching from day one through to day 1000 and beyond.
Coloured Playground Surfaces
Kids need somewhere exciting to play during break times, as well as somewhere safe and durable. Get the best of both worlds with super-durable asphalt available in an incredible range of colours.
Coloured playground surfaces can be supplied to match the schemes and themes of your school or academy and can even be put to great use in creating a few playground games here and there.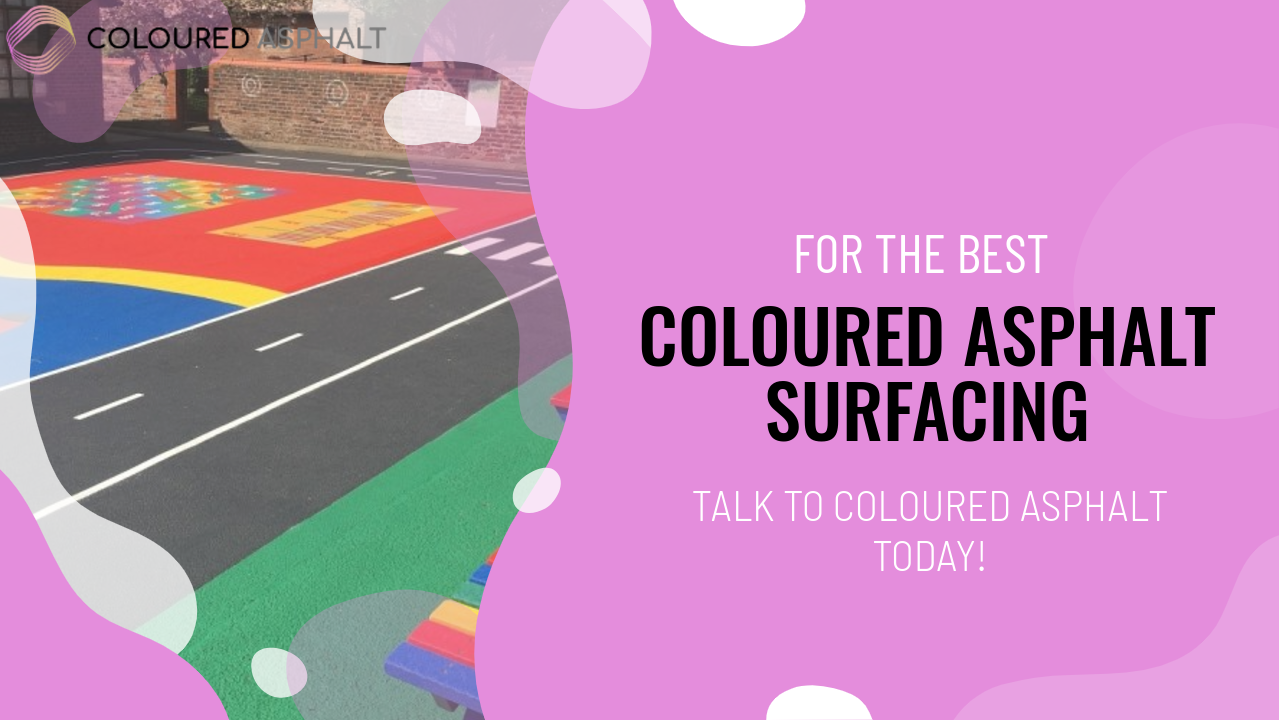 Asphalt playgrounds are great places for kids to learn how to play hopscotch or snakes and ladders – and what's more, the right colours can be used to mark out boundaries on sports courts and other game areas where players need to know where to stand!
A plain asphalt surface just isn't as inspiring as, say, a deep blue, a striking red or a vivid green – why not take a look at some of the previous work we've completed for clients in our surrounding area to start getting inspired?
Sports Court Colour Coating
Certain sports courts come with specific colour schemes, while others can stand out with any shade or hue. Tennis courts are traditionally green, grey, brown or black – but why not go for something a little bit different?
We work with the best tools and the best brands in coloured asphalt and tarmacadam, which means you can always rely upon us to resurface and upgrade your existing courts and pitches to an incredible new standard.
We make sure to use high-quality sports court colour coating, which is mixed to withstand years of regular traffic and use.
Asphalt itself is one of the most durable and long-lasting materials available to us as surfacing experts, and colour options remain some of the most popular with our clients.
It's not hard to understand why – a tired, old tennis court can gain a new lease of life with an incredible touch of colour.
Let us take a look at your surfacing or resurfacing needs and find you the best fit for your project.
Coloured Asphalt Surfacing
Surfacing coloured asphalt, provided by the likes of the brilliant Natratex, is always a viable alternative to traditional bitmac.
Coloured asphalt provided by world-leading brands is easy to install, low maintenance, and completely safe for road users and foot traffic alike.
We also work with popular ranges such as Ulticolour https://www.colouredasphalt.co.uk/ulitcolour/ to supply unique, bespoke playground surfacing solutions and private tarmacadam projects for customers nearby and throughout our area.
We are one of the closest experts in road surfacing for many firms and homes alike, and as such, we always aim to partner with the very best in material supply as well as in the right tools for the job.
It's important to us that we get the job done for you with efficiency and with care – and to your exact specifications.
Coloured Asphalt Cost
A fair question that many of our clients ask is 'how much can coloured asphalt cost'?
The answer is, in short, it can vary from project to project. We do not charge premiums for coloured surfacing, nor do we add on extra fees for additional labour or equipment required.
Obviously, Mastertint https://www.colouredasphalt.co.uk/mastertint/ will not be the same price as anti-slip colour coating and so on.
It is important you speak to our team directly to get the best costs.
We always deliver a reliable, up-front quote to you before we get started, based upon the size of the job you need and how much material you'll require.
Coloured Macadam Finishes
Coloured macadam finishes are a great way to really inspire people around you. It is useful for marking and highlighting. It is also an asset in the surfacing and building of brilliant playground spaces and installations.
Take a look at some of the fantastic new playgrounds we've helped to bring to life over the years!
Can You Get Different Coloured Asphalt?
The good news is that you can indeed get different coloured asphalt!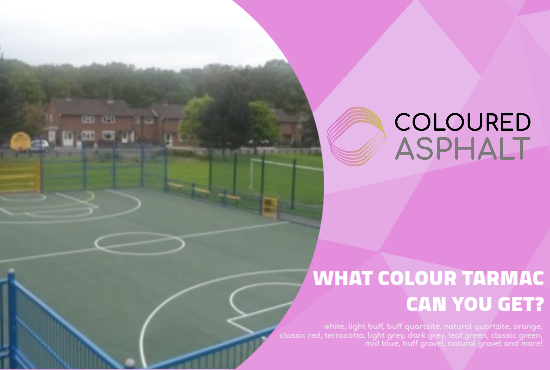 Most people are unaware that asphalt may be tinted to a variety of earth tones. Both hot mix asphalt and asphalt emulsion sealers can benefit from its simple use and environmentally safe colour additives.
What's Cheaper Block Paving or Tarmacadam?
In most cases, there are fewer upfront fees. Tarmacadam materials are frequently less expensive, and labour expenses are lower because it takes less time to lay. Block paving, on the other hand, is only 10% more expensive on average.
What Colour Macadam Can You Get?
There's a variety of colours to choose from when it comes to tarmacs. Colours range from white, light buff, buff quartzite, natural quartzite, orange, classic red, terracotta, light grey, dark grey, leaf green, classic green, mid blue, buff gravel, natural gravel.
Other Services We Offer
Enquire Now
Interested in adding a touch of colour to your macadam? Coloured asphalt is always available from our local team of experts and suppliers.
Enquire now – fill in our contact form today!